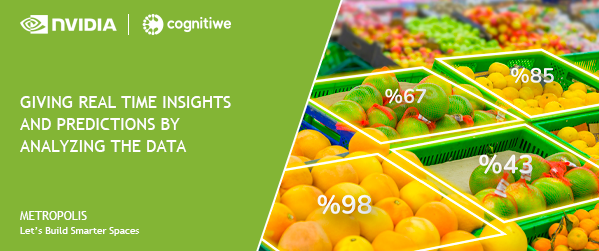 Cognitiwe, an industrial computer vision company that provides a predictive vision AI platform, today announced it has joined NVIDIA Metropolis, a partner program focused on bringing to market a new generation of vision AI applications. NVIDIA Metropolis nurtures a rich ecosystem and offers powerful application developer tools to supercharge vision AI applications that are designed to make the world's most important spaces and operations safer and more efficient.
Cognitiwe predictive vision AI platform provides real-time monitoring of fruits and vegetables to ensure the freshness of produce in supermarkets and enhance the shopper's experience. Cognitiwe's unique focus is on predictive analysis, where processing visual data in real-time and historical data analysis can prevent problems before they occur. By joining NVIDIA Metropolis, Cognitiwe is enabled to reach more global customers, promote its products more widely and develop new global partnerships, particularly in the retail and production sectors. Cognitiwe also plans to stay ahead of the competition by being an early adopter of key NVIDIA software development kits and platform updates.
Cognitiwe has established its Istanbul, Tallinn, and Milan offices with the aim of becoming a global player by expanding to Europe. After receiving a major investment from the investment tour under the leadership of TechOne VC – which includes StartersHub, Startup Wise Guys, and EGIAD Angels -Cognitiwe has five customers from the retail and manufacturing sectors and more than 10 pilot projects that are at the signing stage. Cognitiwe focuses mainly on deployments in Italy, England, and Spain, which have prominent retail sectors, as well as Nordic countries that are open to working with new technologies and foreign startups.
NVIDIA Metropolis makes it easier and more cost effective for enterprises, governments and integration partners to use world-class AI-enabled solutions to improve critical operational efficiency and safety problems. The NVIDIA Metropolis ecosystem contains a large and growing breadth of members who are investing in the most advanced AI techniques and most efficient deployment platforms, and using an enterprise-class approach to their solutions. Members have the opportunity to gain early access to NVIDIA platform updates to further enhance and accelerate their AI application development efforts. Further, the program offers the opportunity for members to collaborate with industry-leading experts and other AI-driven organizations.
"Cognitwe is looking forward to develop its vision AI platform by joining NVIDIA Metropolis and collaborating technologically with NVIDIA," said Attila Algan, CEO of Cognitiwe. "NVIDIA's powerful GPU-accelerated AI capabilities help us build better solutions for our customers."